Gettysburg Wedding Venues: Our Favorites
Planning a wedding is a lengthy process, but the first (and arguably the most important) step is to research Gettysburg wedding venues and select the perfect one. From size and style to location and amenities, there are many factors to consider when choosing your dream wedding venue in Gettysburg.
Do you want to get married at a historic venue that dates back to the pre-Civil War era? Would you prefer a property that offers in-house catering? Are onsite accommodations a must-have? Discuss your ideal wedding venue with your partner to determine your top priorities when researching and touring Gettysburg wedding venues.
To make your search easier, we've compiled a list of our favorite Gettysburg wedding venues to give you a taste of what this area has to offer. So grab your notebook and start reading!
The Lodges at Gettysburg
Set on 63 acres of Pennsylvania countryside, The Lodges at Gettysburg offers unparalleled views, an onsite spa, and luxury guest lodges that provide a resort-style experience for couples and their guests. A lakeside ceremony site and rustic ballroom pair beautifully for an elegant wedding day. With in-house planning and catering services, couples can enjoy the perks of an all-inclusive wedding venue in Gettysburg.
Plus, couples can celebrate with add-ons to make their day extra special, including a horse and carriage arrival, outdoor movie theater, s'mores bar, or firework send-off.
Address: 685 Camp Gettysburg Road Gettysburg, PA 17325 
Phone: (717) 642-2500
Battlefield Bed and Breakfast Inn
History lovers will appreciate the novelty of tying the knot at the Battlefield Bed and Breakfast Inn, a Civil War farmhouse that dates back to 1809. With an outdoor garden and two indoor reception halls, couples can tailor their wedding plans to their preferences. Wedding packages include an onsite coordinator and overnight accommodations in the bed and breakfast, providing couples with a weekend-long celebration.
Want to make it an extra memorable celebration? Consider booking their in-house storyteller to tell ghost stories at the bonfire!
Address: 2264 Emmitsburg Road, Gettysburg, PA 17325
Phone: (717) 334-7330
Wilson's Bittersweet Barn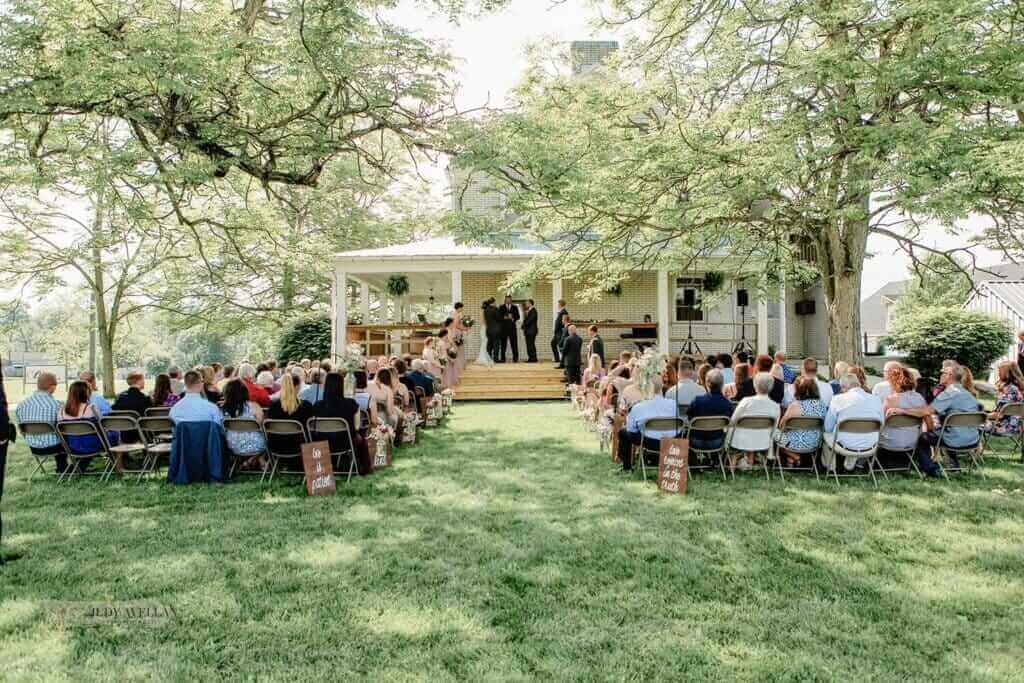 Despite the name, weddings at Wilson's Bittersweet Barn are anything bittersweet (except for when you leave!). Built before the Civil War, the venue first served as the staging ground for the Battle of Gettysburg – the perfect destination for history buffs. The spacious venue offers a rustic setting for couples to tie the knot. 
With coordination, rentals, and tents included in every wedding package, Wilson's makes wedding planning simple. Plus, onsite accommodations promise a short walk back at the end of the night!
Address: 590 Dicks Dam Road, New Oxford, PA
Phone: (717) 624-7116
Gettysburg Hotel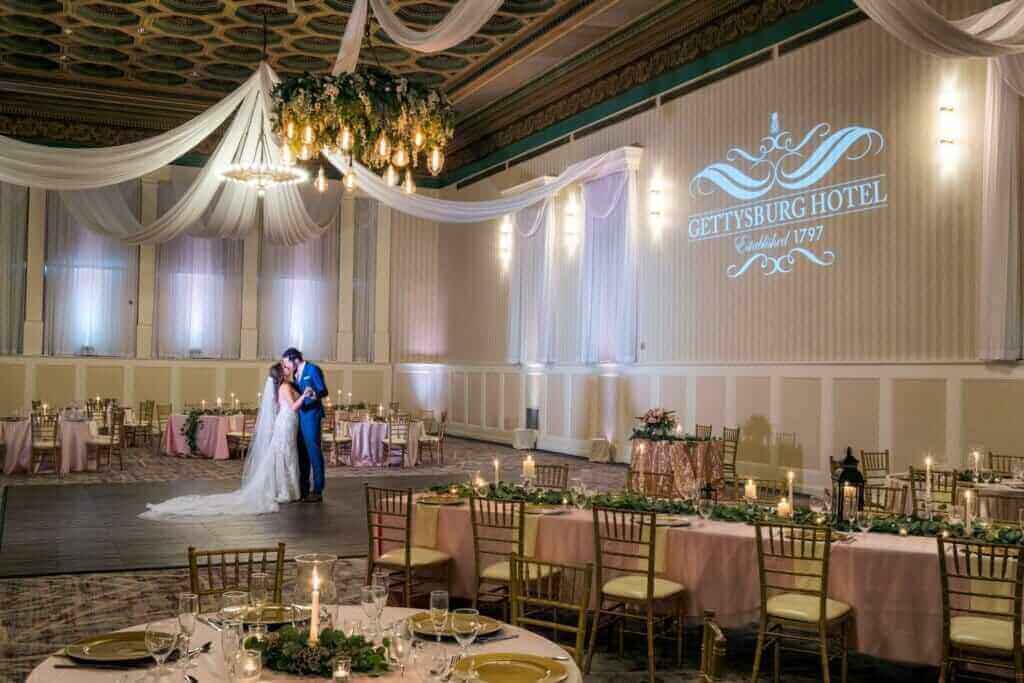 Located centrally in Gettysburg, the Gettysburg Hotel is a renowned property known for its proximity to the Gettysburg Battlefield, Gettysburg College, and the many downtown restaurants and boutique shops. The grand ballroom boasts towering hand-painted ceilings and historic details that date back to the early 1800s. 
Onsite accommodations and an inviting restaurant ensure a comfortable stay for guests without ever needing to leave the property. And if they do, they can easily walk around downtown or rent a complimentary bicycle from the hotel!
Address: One Lincoln Square, Gettysburg PA 17325
Phone: (717) 337-2000
The Gettysburg National Military Park and Visitor Center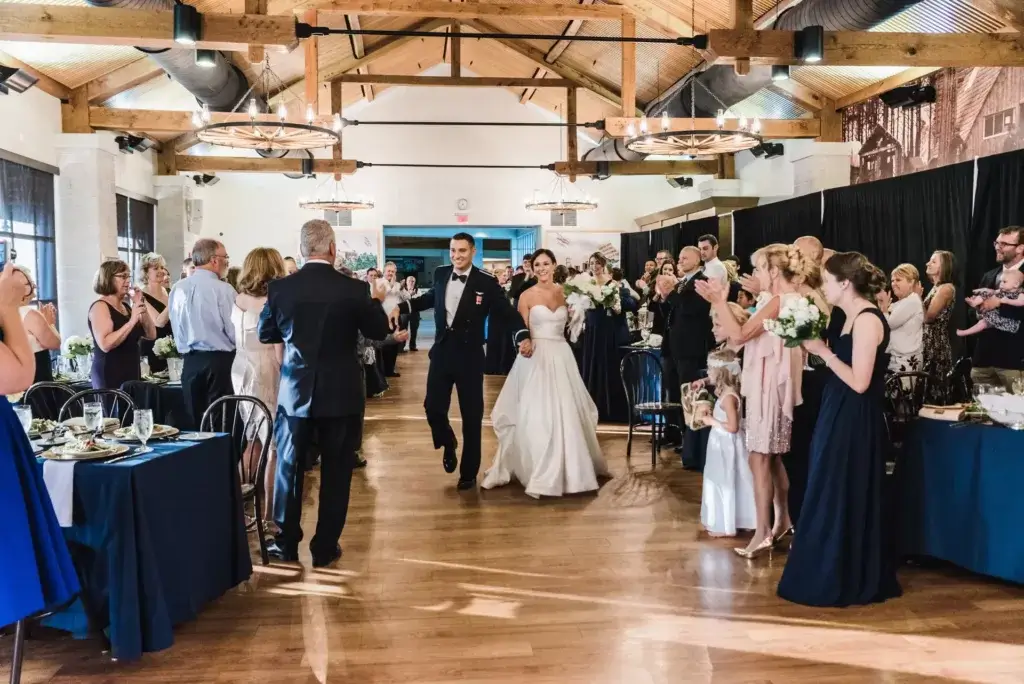 The Gettysburg National Military Park and Visitor Center offers more than just compelling history; it also has a cozy meeting space perfect for Gettysburg weddings. An in-house catering partner provides custom menu planning with locally-sourced ingredients. And for the history fans, couples and their guests can take advantage of exclusive access to museum exhibits that tell the story of the venue and the local area. 
Address: 1195 Baltimore Pike, Gettysburg, PA 17325
Phone: (717) 338-1243, Ext. 5
The Historic Round Barn & Farm Market
Just eight miles from downtown Gettysburg, The Historic Round Barn & Farm Market isn't just a wedding venue — it's one of the last round barns in existence. It's also a working, family-owned farm that has been passed down through four generations. For couples, this means saying "I do" amid orchards of apples and peaches! Wedding packages include coordination, rentals, decorations, and four days of access to the venue.
Address: 298 Cashtown Rd, Biglerville, PA 17307
Phone: (717) 334-1984
The Ballroom on Broadway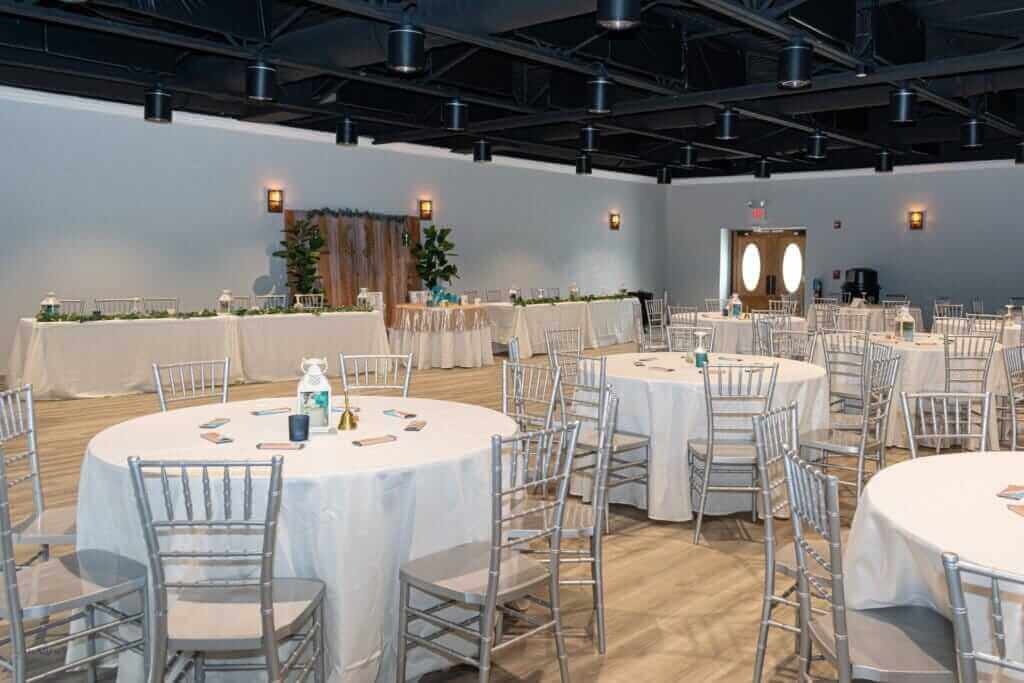 In neighboring Hanover, The Ballroom on Broadway is a Gettysburg wedding venue that offers a blank canvas for couples who want to make the space their own. With in-house planning, catering, and photography services, couples will appreciate a smooth and seamless journey to the aisle. The adjacent Edison Terrace also provides a greenery-filled outdoor space for the ceremony, cocktail hour, or reception overflow.
Address: 1649 Broadway, Hanover, Pennsylvania 17331
Phone: (717) 825-1351 
The BigMount Lodge
Gorgeous vaulted ceilings, sprawling pastures, and rustic wood surroundings make The BigMount Lodge a sight to behold. In-house rentals and an exclusive caterer add a convenient touch to wedding planning, and couples will love knowing their wedding night accommodations are included at the nearby Altland House. A quaint historic saloon is also located on-site, complete with a fireplace, bar, grill, sound system, and patio – a perfect spot to get ready and celebrate with loved ones!
Address: 5107 W Canal Rd., Dover, PA 17315
Phone: (717) 259-9535
Lakeview Farms Events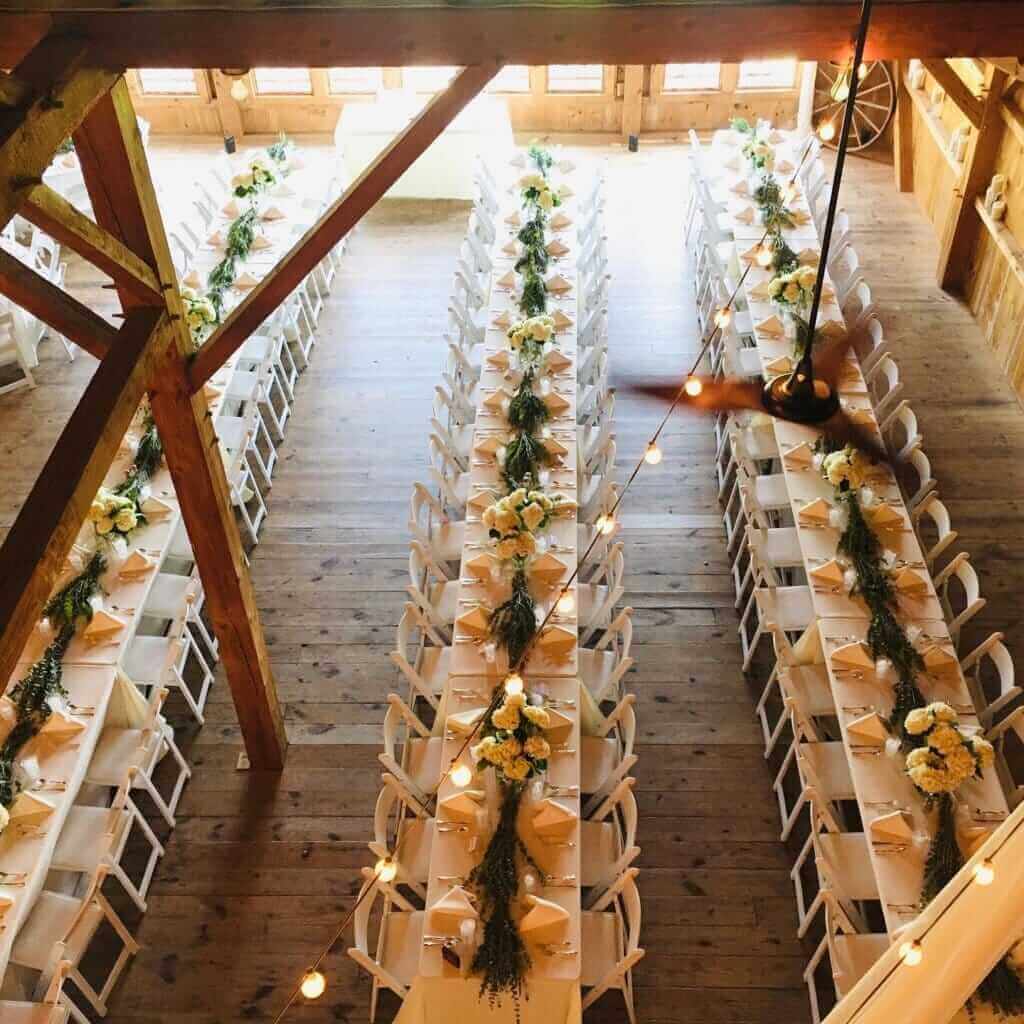 As the first barn wedding venue in York County, Lakeview Farms Events continues to impress couples and their guests with its stately rustic barn and scenic lakeside ceremony site. An in-house coordination team ensures every detail is flawless from setup to break down. The spacious property includes multiple spaces for couples to plan their ideal day, and offers an on-site fire pit and generous parking to enhance the guest experience.
Address: 3440 Admire Rd., Dover, PA 17315
Phone: (717) 825-1121
Spring Valley Farms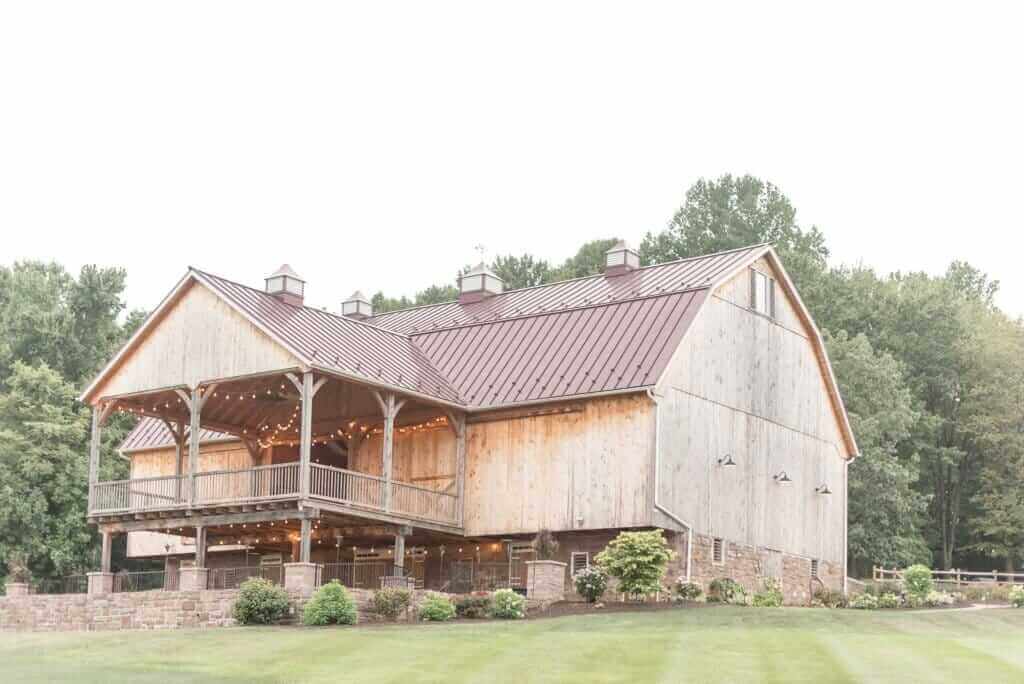 Tucked away on 135 acres of pastoral farmland, Spring Valley Farms offers ample indoor and outdoor space for weddings of all sizes. The rustic barn flows out into an open-air patio overlooking the property's charming pond and footbridge. Pairing antique and modern aesthetics, couples will love the versatility of this spacious Gettysburg wedding venue! A second-floor farmhouse boasts elegant accommodations for the newlyweds to spend the night.
Address: 4185 Bull Road, Dover, PA 17315 
Phone: (410) 935-6761
Need more help sorting through Gettysburg wedding venues? We're here to help!
As the premier event entertainment company in Gettysburg, we've worked at many venues in the area and we're delighted to help you explore your options. Contact us for more information!
Once you book your venue, we can discuss how our Gettysburg wedding DJ and event lighting services can make your wedding day a night to remember!
As you plan your wedding, there are several factors to consider — one of the most critical being your venue. Your event space impacts everything, from your wedding vision and guest experience to the ambiance and theme. So taking time to research and book the perfect Gettysburg wedding venue is a priority.
But selecting the right spot for your special day isn't easy. It requires you and your partner to discuss your must-haves and determine the locations that align with your vision. For instance, do you want a historic estate or an idyllic countryside property? Are amenities, like in-house catering, a must? 
Clarifying your preferences will guide your research process. But if you need help, we've gathered a list of our favorite Gettysburg wedding venues to show the diversity this area offers. Let's dive in.  
Inn at Herr Ridge
Welcome to the country! Inn at Herr Ridge is a gorgeous Gettysburg property featuring a historic banquet room, wine cellar, unique boutique hotel, and an outdoor space. Couples searching for rustic charm will love this barn venue. Originally built in 1815 on historic battlefields, the barn offers an inviting environment for guests to enjoy their celebrations. 
The inn is also an excellent choice for destination weddings as it provides 17 rooms for lodging. In addition, they offer a selection of bar options, like open, cash, and soda bars. So be prepared to have a one-of-a-kind celebration here! 
Address: Chambersburg Road, Gettysburg, PA 17325
Phone Number: (717) 334-4332        
Wyndham Gettysburg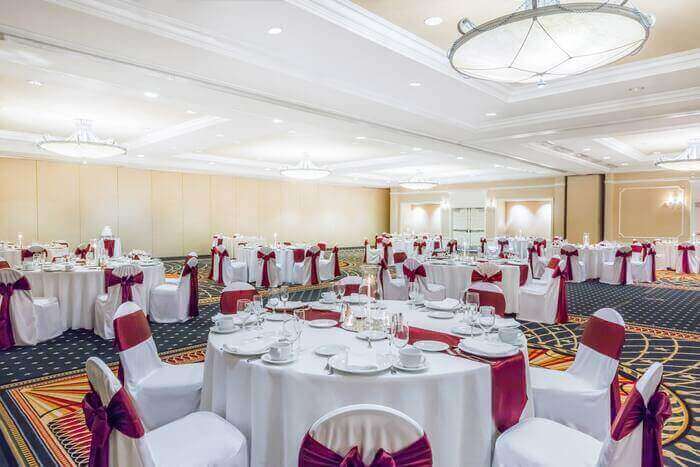 Awarded as WeddingWire's 2016 Couples Choice for the Best Wedding Venue in the area, Wyndham Gettysburg is a beautiful hotel for events. With picturesque landscapes and historic charm, this Gettysburg venue is perfect for couples who want to go big for their celebrations. Wyndham Gettysburg provides a wedding professional to support your planning process and take care of all details, from floral arrangements to lighting.
One of their unique event spaces is the Presidential Ballroom. The 8,901 square foot venue includes the presidential foyer, a terrace, full-service event planning, custom catering, and décor. The Presidential Ballroom is suited for a reception party or rehearsal brunch. It's a timeless space that provides a classic backdrop for your wedding photos. Plus, the grand corridor that opens onto an outdoor veranda will take your breath away!    
Address: 95 Presidential Circle, Gettysburg, PA 17325
Phone Number: (717) 339-0020
Gettysburg Lincoln Railroad Station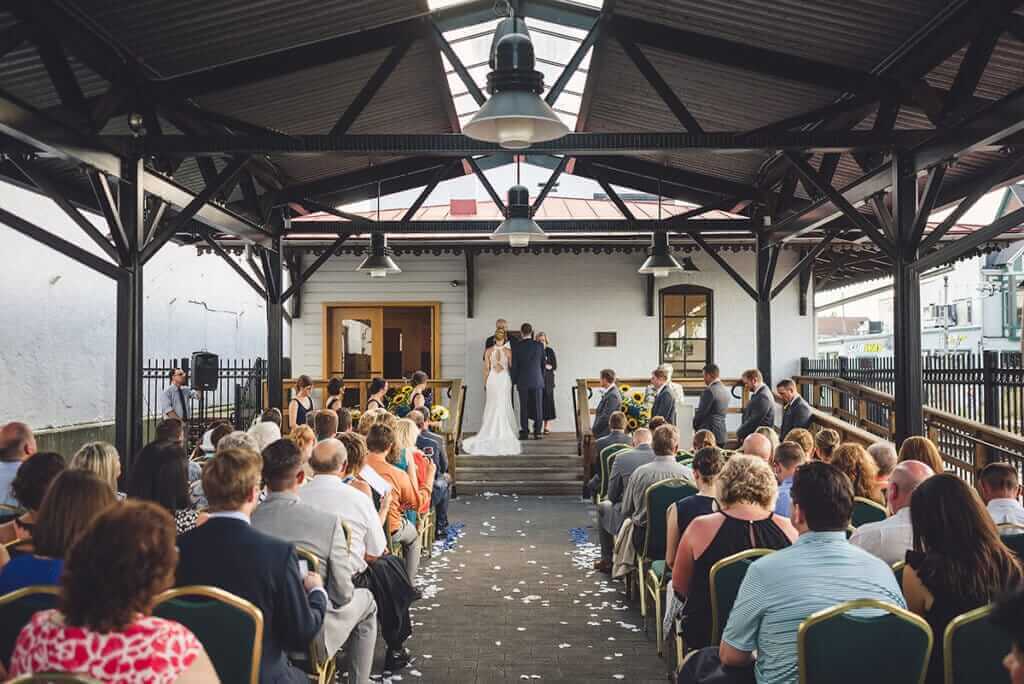 If you and your partner are history buffs, the Gettysburg Lincoln Railroad Station is your perfect wedding venue. Although the museum showcases American historical exhibits, train models, and other railroad antiques, it also hosts wedding ceremonies. Couples can immerse their guests in this charming setting, accommodating up to 200 guests. This venue also offers catering, planning, rentals, and service staff to bring your vision to life. So whether you want to host an indoor or outdoor event, this is a memorable spot to cement your love. 
Note: The Gettysburg Lincoln Railroad Station will reopen in the spring. 
Address: 425 Steinwehr Ave. Gettysburg, PA 17325
Phone Number: (717) 334-5678
The Links at Gettysburg
With over 20 years of hosting weddings, The Links at Gettysburg is a country club dream. The property showcases stunning backdrops for wedding photos and ceremonies, from the ballroom to the scenery. The Premier Clubhouse provides a stone fireplace, an outdoor terrace, a built-in bar, and vaulted ceilings. It also accommodates 230 guests. 
The onsite team makes weddings a breeze with set up and take down services and a wedding planner to guide the day's timeline. Some amenities include furniture, centerpieces, an outdoor event space, and a reception area. Be sure to check this location out for a tour!
Address: 601 Mason Dixon Road, Gettysburg, PA 17325
Phone Number: (717) 359-8000   
Rock Creek Farm
A few minutes from downtown Gettysburg, Rock Creek Farm is a family-owned ranch that delivers classic rustic themes. If you've been dreaming of a country destination, this is a great spot to tie the knot. The historic family farm houses a 5,000-square-foot bank barn. Built in the late 19th century and recently renovated, this gorgeous event space has pine floors, a copper top bar, two lofts, hand-crafted wagon chandeliers, and a deck leading to the spacious property. Your guests will marvel at the two-acre pond and welcoming atmosphere!
Address: 470 B Solomon Road, Gettysburg, PA 17325
Phone Number: (207) 841-3310
The Granary at Peach Glen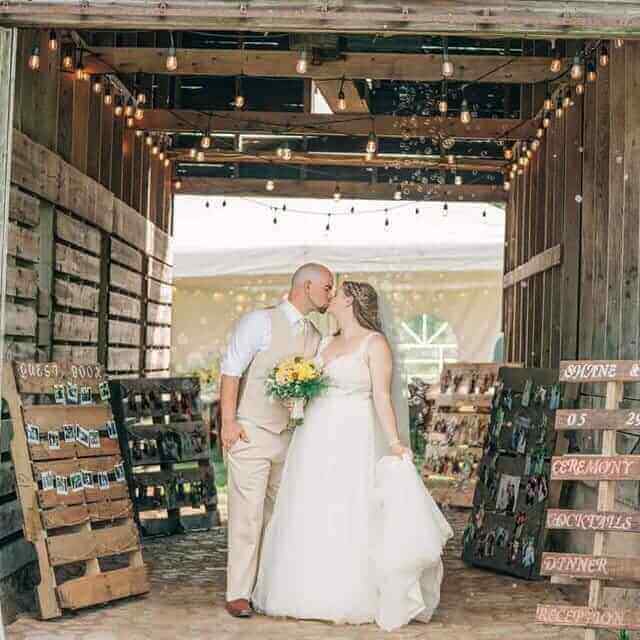 Experience incredible views of the Appalachian Ridge and beautiful orchards at The Granary at Peach Glen. This venue is a family-owned property dating back to 1902. Couples can enjoy a cozy atmosphere in the country with stone bar foundations, greenery, and dreamy naturescapes. In addition to the spacious grounds for games and activities, The Granary at Peach Glen has an event team to support your wedding needs as you hire outside vendors to service your big day.     
Address: 120 Peach Glen Road, Gardners, PA 17324 
Phone Number: (571) 242-1891
Historic Shady Lane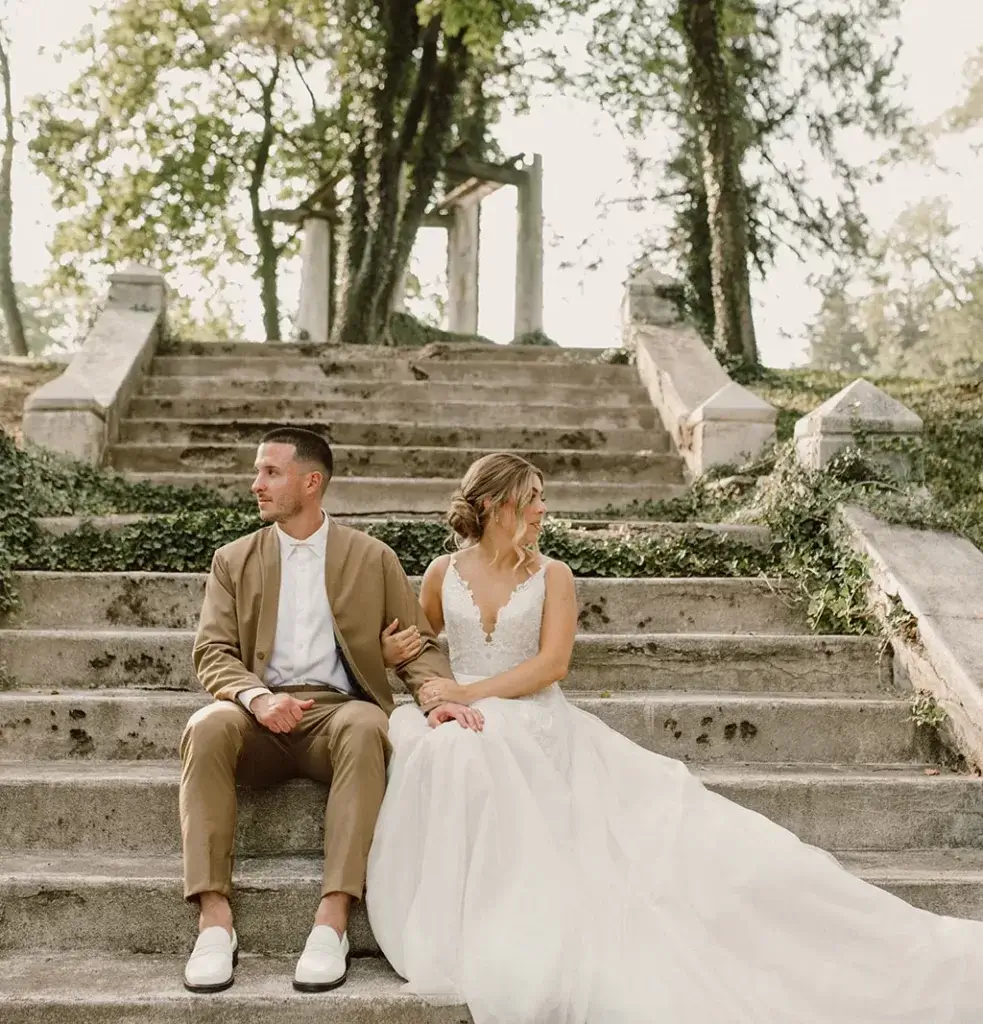 Historic Shady Lane remains true to their slogan, "Where Rustic Meets Elegance." Nestled in York County, this 34-acre estate provides the perfect outdoor wedding experience with historic stone backdrops, gardens, a greenhouse, and forests. Take in the sweeping, lush landscape while soaking in memorable experiences with your partner. The greenhouse is also a crowd favorite as it adds an eye-catching element to wedding photos. Historic Shady Lane can host 250 guests and is ideal for pre-wedding celebrations, ceremonies, and receptions. 
Address: 475 Shady Lane, Manchester, PA 17345 
Phone Number: (717) 855-4665
Stock's Manor
Stock's Manor is a romantic property that greets visitors with historic charm. As you enter the driveway, the stone exterior, 19th-century windows, and open porch are immediately inviting. This wedding venue provides 11,000 square feet for receptions, weddings, and lodging (an excellent perk for out-of-town guests!). Immerse yourself in the country scenery and choose from multiple catering options covering bartenders, mixers, and barware. Some amenities include onsite accommodations, outdoor and indoor event spaces, and dressing rooms. 
Address: 2421 Mount Allen Drive, Mechanicsburg, PA 17055
Phone Number: (717) 766-3100
Whispering Pines Estate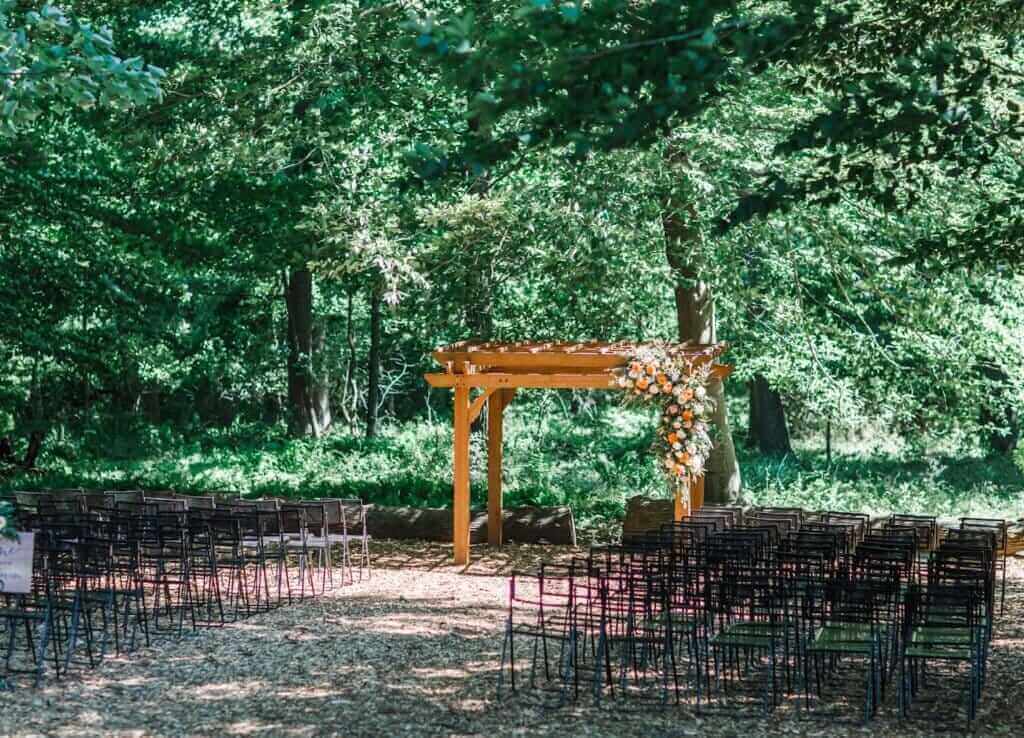 The Whispering Pines Estate is a hidden gem home to rolling fields, an idyllic pond, and a fairytale-like atmosphere. Enjoy the historic estate house as you and your wedding party prepare for your big day, and enjoy the panoramic views from the reception building. This venue comes complete with a renovated barn, fire pit, large bar, and a team to maintain the natural flow of your day. If you're looking for a private location, consider adding this wedding venue to your list!
Address: 767 Pinetown Road, Lewisberry, PA 17339
Phone Number: (717) 516-3466  
The Bond
Are you searching for a wedding venue with industrial architecture? If so, look no further than The Bond. Centrally located in Downtown York, this event space features concrete floors, exposed brick walls, and tall glass windows, allowing you to transform the space seamlessly with your theme. The ballroom can accommodate 200 guests and includes stand-out elements, like dazzling chandeliers, a white brick backdrop, dark wooden beams, and floor-to-ceiling windows.  
Couples can also host their special day in the outdoor urban space, The Royal Square Gardens. Perfect for a small ceremony or cocktail hour, the garden maintains a sleek and modern aesthetic with white brick walls, a gazebo, and strings of lights cascading across the courtyard.  
Address: 134 East King Street, York, PA 17401 
Phone Number: (717) 585-0071
Eisenhower Hotel and Conference Center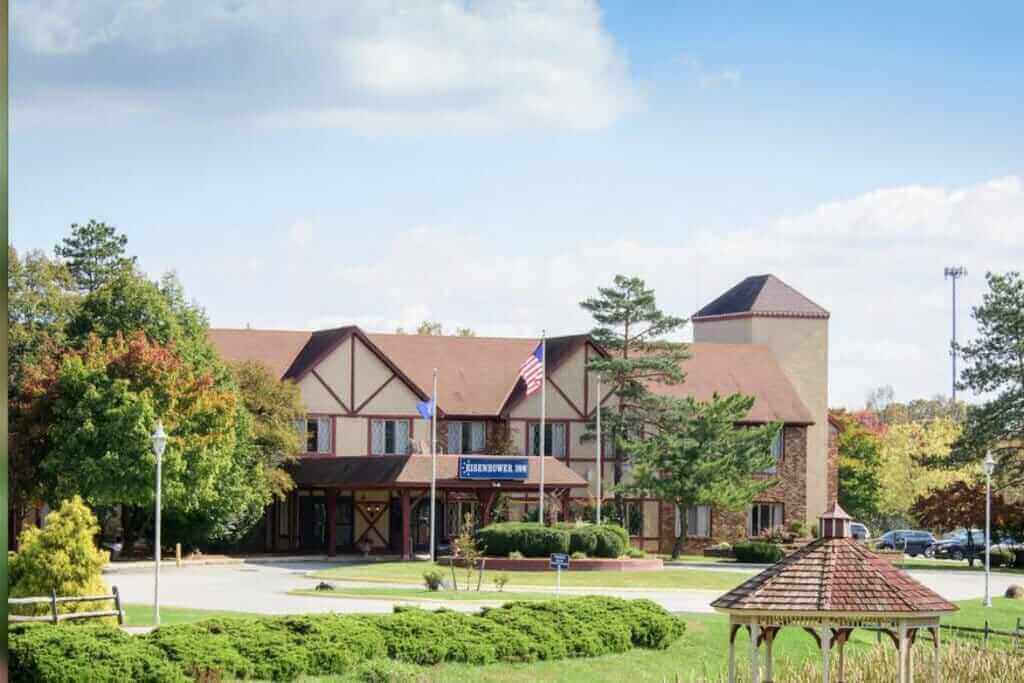 Named after the 34th President of the U.S., the Eisenhower Hotel and Conference Center is a charming wedding venue featuring indoor and outdoor spaces for special events. The Grand Ballroom showcases classic chandeliers and tall windows with lush property views. In addition, couples can enjoy an outdoor ceremony on the garden terrace, gazebo, or courtyard.      
Eisenhower Hotel and Conference Center is also near historical sites like Gettysburg National Military Park. If you want to reserve your special day here, consider adding this landmark to your wedding weekend plans. 
Address: 2634 Emmitsburg Road, Gettysburg, PA 17325 
Phone Number: (717) 334-8121        
The Inn at White Oak
The Inn at White Oak is a breathtaking 30-acre rustic oasis. Explore the picturesque grounds and you'll find ponds, woodlands, pastures, and gardens perfect for your celebration and wedding photos. As for event spaces, couples can select from the following options: a restored barn, garden pavilion, and outdoor lawn area. The inn also offers onsite lodging with eight rooms, accommodating up to 18 guests.   
Some amenities include in-house catering, event coordination, a bridal suite, and an officiant. Learn more about their custom wedding packages on their website.     
Address: 1 White Oak Trail, Gettysburg, PA 17325 
Phone Number: (717) 334-8448
Beech Springs Farm
A popular barn venue in Gettysburg, Beech Springs Farm perfectly blends elegance with rustic charm. Visitors will appreciate the land's natural beauty, from the ponds and meadows to the flower beds. This wedding venue offers indoor and outdoor spaces like a restored barn with exposed chestnut beams, a ceremonial pond area, and a stone courtyard. 
A ceremony by the pond provides scenic backdrops, while the stone courtyard creates an intimate space for a reception or cocktail hour. As for the barn, the classic wood and natural stone aesthetic creates a cozy ambiance, accommodating 100 guests. 
Address: 784 Mount Carmel Road, Ortanna, PA 17353 
Phone Number: (717) 642-5695
Country Inn & Suites by Radisson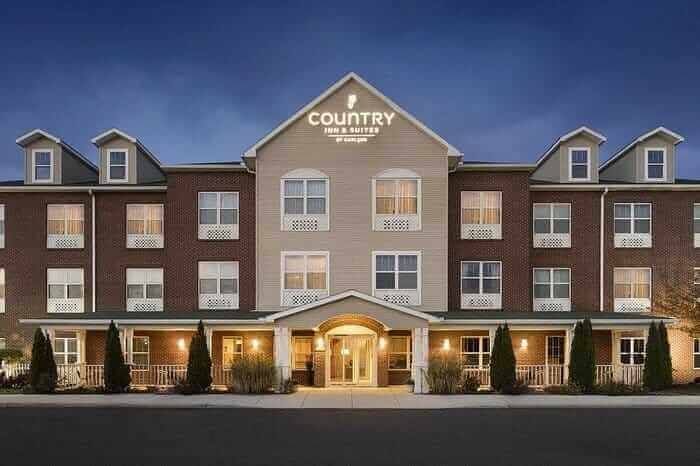 A welcoming stay, Country Inn & Suites by Radisson is a hotel with a ballroom, meeting room, and multi-functional area. The ballroom can host around 200 guests, and the meeting room can accommodate a celebration of 50 people. Each event space is a blank canvas, allowing couples to get creative with their themes. In addition, some amenities include in-house catering with custom menus, event coordination, audiovisual equipment, and lodging for guests. 
Address: 1857 Gettysburg Village Drive, Gettysburg, PA 17325 
Phone Number: (223) 255-6043
Battlefield Brew Works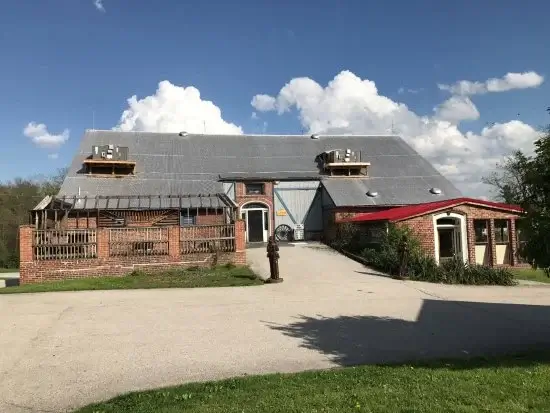 Battlefield Brew Works is a Gettysburg Artisanal Distillery with a fascinating history. First built in 1848, the barn was later used as a Confederate field hospital after the Battle of Gettysburg and eventually became one of Pennsylvania's oldest breweries. As a wedding venue, Battlefield Brew Works features a classic barn, beer garden, and outdoor spaces with countryside views. 
The barn has notable characteristics like Pennsylvania Dutch brick and decorative hole patterns, transporting guests back in time. Battlefield Brew Works is an excellent choice for your special day if you enjoy craft beer and historical venues. 
Address: 248 Hunterstown Road, Gettysburg, PA 17325 
Phone Number: (717) 398-2904
Drummer Boy Campground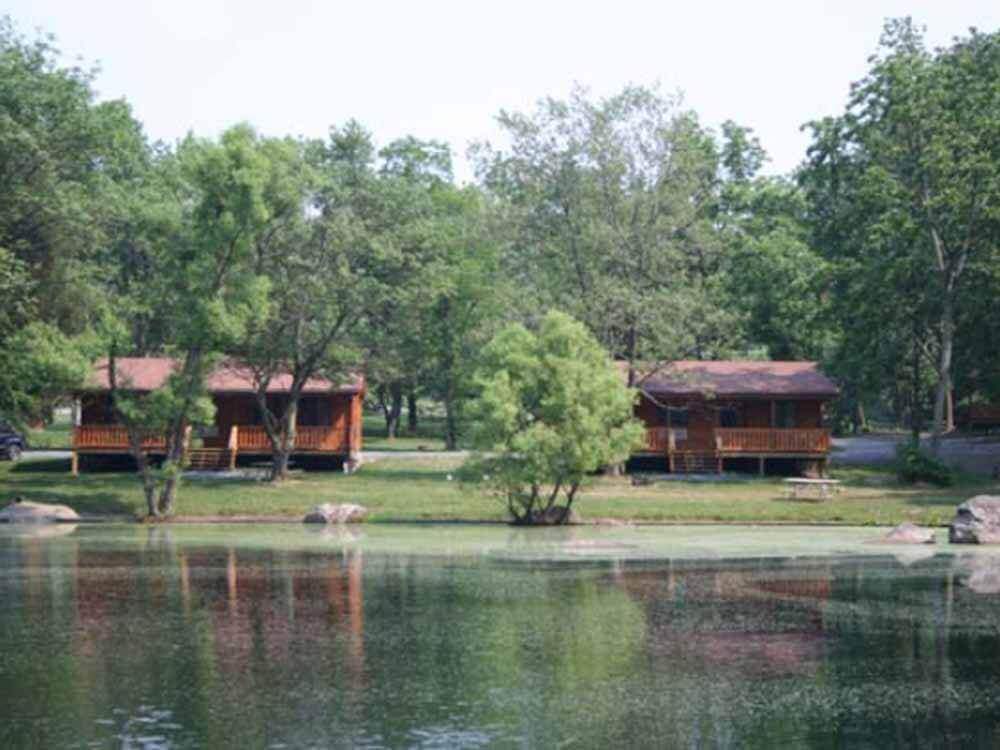 With 95 acres of woodlands, Drummer Boy Campground has 400 sites for couples to choose from for their wedding. The natural scenery creates dreamy backdrops for engagement and wedding photoshoots. For couples who want an outdoor celebration, you can tie the knot by the lakeside, wooded areas, or gazebo. However, the camping resort also provides indoor reception spaces, like a banquet hall and pavilion.
A convenient option for a destination wedding, out-of-town guests can take advantage of lodging options, such as cabins, cottages, and RV sites. The campground also has many fun activities to include in your welcome and reception parties. 
Address: 1 Rocky Grove Road, Gettysburg, PA 17325 
Phone Number: (717) 334-3277
Federal Pointe Inn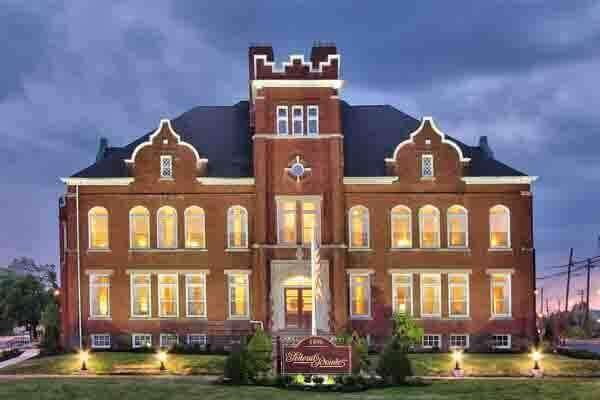 Federal Pointe Inn is a historic and luxurious boutique hotel in downtown Gettysburg. Once considered the first high school in town, it's since been restored into a stunning 19th-century hotel with 23 suites.
From the classic brick exterior and Victorian windows to the elegant furnishings, couples can celebrate their love while soaking in the memorable atmosphere. This wedding venue also coordinates events to support couples with planning, vendor selection, and day-of management. If you love historical sites, consider scheduling a tour here.  
Address: 75 Springs Avenue, Gettysburg, PA 17325 
Phone Number: (717) 334-7800
Need support finding the perfect Gettysburg wedding venue? Allow us to help!
As an event entertainment business in Gettysburg, we've partnered with many venues in the area, and we're happy to guide you through your options. So get in touch with us today for more information. And once you've secured your wedding venue, let's discuss how our Gettysburg wedding DJ and event lighting services can infuse magic into your big day!